Table of Contents Example
We love skateboards, but sometimes we get annoyed with our board. One of the main reasons is for getting poor performance after being a skilled person. Well, one of the main reasons behind this problem is the wrong skateboard size. You have to maintain a proper skateboard size chart to get rid of this problem.
The complete skateboard size chart means the size chart of the deck, truck, wheel, length, deck, etc. Apart from this, your shoe size also has a big impact on your performance. I am here with a complete size guide for you. I will discuss several points and complete skateboard size for getting the right skateboard size. So, further wasting any more time, let's go in-depth to the main point.
Types of Skateboard
Skateboards come in different shapes and sizes from which you can select your desired one. Before finding out the perfect one for you, you need to know about all the types of skateboards. Skateboards can be divided into several types according to shape and deck size, and below, here I will describe these types.
According to Shape
You will find skateboards of various shapes, and these shapes are constructed to change the styles. There are mainly four common shapes available and now let's learn about them.
Shortboard
These boards are short in size but best for doing tricks and remaining more time in the air while performing tricks.
Cruiser
Cruisers are skateboards with kicktails, and these are very flexible and speedy. So if you want to wander around on your board cruiser can be a nice option.
Old School
These boards are famous for their asymmetrical shape and wider noses. While performing at the ramps or in skating pools, the old school can be a perfect choice.
Longboard
Longboards have enough space, and that's why these are considered the best options for beginners. Besides, normal transportation and downhill racing are easier with longboards.
According to Deck Size
Considering your age, height, weight, and shoe size, you should decide which deck size can be perfect for you. According to deck size, skateboards can be divided into micro, mini, medium, and full.
Micro
Micro boars are suitable for children up to five years old as these boards come with a width range of 6.5 to 7.5 inches.
Mini
Mini boards are a little larger than micro boards, and that's why these allow six to eight-year-old children.
Medium
These boards are suitable for kids whose shoe size is 7 to 8, which means kids of nine to twelve years old.
Full
Full boards offer a deck width of 7.5 to 8.25 inches, so these boards are a good fit for people above 12 years.
Picking Out the Right Board Size
As you know the types of skateboards in detail, it will be very easy for you to pick the right sized board for you. Many people got puzzled seeing the different sizes of skateboards, but you don't need to worry as I am here to help you regarding this problem.
As a beginner, most skateboarders focus on choosing the coolest skateboard but choosing the right sized board is more important. You have to keep some factors in mind if you want to select the perfect-sized skateboard.
Width of Deck
You have already come to know that there are four types of skateboards available according to the width of the deck. First, you need to know your height, shoe size, and age to choose the right deck width.
If your shoe size is between 0 to 3, then the micro-sized deck will be perfect for you. Mini boards are good for kids with 4 to 6 shoe sizes. Medium boards are a good fit for kids with 7 to 8 shoe sizes. Then lastly, if your shoe size is 9 or above full boards are best for you.
Length of Board
Length is also important when you talk about choosing the right-sized skateboard. Well, the style of a skateboard defines its length of. Shortboards, cruisers, old schools, and longboards come in different lengths and styles. You need to decide for which purpose you are buying the skateboard.
If you are quite an expert in skateboarding and want to do many tricks, then choose the shortboard. Shortboards are smaller in size but greater for performing amazing stunts and tricks.
Then there are cruisers which come in mid-length and will be best for roaming around for a long period. These boards are great in flexibility and provide a very fast speed.
You might have heard the name of the old-school variety of skateboards. Though these seem classic when you hear the name, these are actually great for performers who perform at the ramps or in the skating pools. That means old-school variety is also more suitable for professionals.
Last but not least, longboards are the skateboards with greater length and space. Longboards have different types as well, and these boards are mainly designed for beginners. Beginners will find longboards easier to balance and move with.
Wheelbase
The wheelbase is the distance between the front and back wheels, and it is an important factor while choosing the right sized board. Look for the skateboards whose deck comes with multiple wheelbase options so that you can fix the size on your own. The range of wheelbase varies between 13 inches to 5 inches.
Wheel Size
You should focus on the wheel size after deciding the purpose of your skateboarding. 49 mm to 52 mm wheels are perfect if you love street skating, but if you want to do transition skateboarding, you will need 54 mm to 60 mm range wheels.
Skateboard Size Chart
Now, I will show you different charts of different components of a skateboard. Compare them according to the components I will show along with the main part. Have a look at the tables and charts.
Skateboard Deck Size Chart
The deck is one of the most important parts of a skateboard. The deck size will be different for people of different ages and heights. I have created a chart for the perfect size according to your age and height.
Besides deck size, you need to learn which type of board is appropriate for you. So, I will also mention the type of board along with deck size. So, take a look at the skateboard size chart for the deck and understand which size goes perfectly with you.
| | | | |
| --- | --- | --- | --- |
| Age | Height | Type | Deck Size |
| 5 years or below | 3'4" | Micro | 6.5"- 6.75" |
| 6-7 years old | 3'5" – 4'4" | Mini | 7.0" |
| 8-12 years old | 4'5" – 5'2" | Small | 7.3" |
| 13-14 years old | 5'3" – 5'6" | Mid-size | 7.5"-7.6" |
| 15 years old and elder | 5'7" + | Full size | 7.7" or wider |
Skateboard Size Chart Shoe Size
Now time for the chart of shoe size along with your height and age. Some people never consider the shoe size but maintaining shoe size is necessary for skating properly.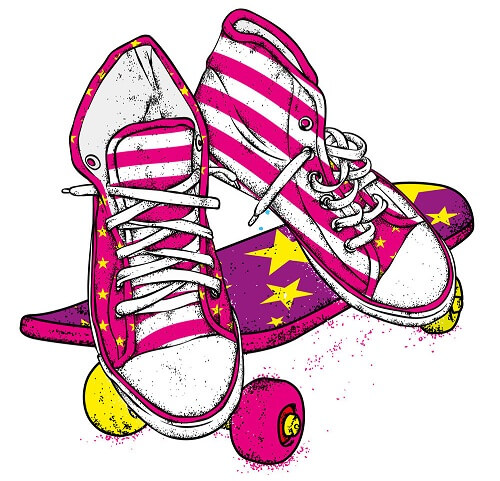 Wrong shoe size can lead you to face accidents. You will misplace your leg very often, getting the wrong size shoe. So, have a look at the shoe size skateboard size chart.
| | | |
| --- | --- | --- |
| Age | Height | Shoe size |
| 5 years or below | 3'4" | 3 |
| 6-7 years old | 3'5" – 4'4" | 4-5 |
| 8-12 years old | 4'5" – 5'2" | 6-7 |
| 13-14 years old | 5'3" – 5'6" | 7-8 |
| 15 years old and elder | 5'7" + | 9 and up |
The Skateboard Length and Stance Width
Some people mean skateboard size as the skateboard length. The length of the board is important for choosing an appropriate skateboard. Along with length, you need to know the stance width of the board.
So, I am here with another part where I will discuss the skateboard length and stance width. I will show the size according to your height. So, have a look at the proper skateboard size chart.
| | | |
| --- | --- | --- |
| Height | Board Length | Stance width |
| 5'6" or below | 29.5 inch / 75 cm | 20 inch |
| 5'6" – 5'8" | 30.3 inch / 77 cm | 20.8 inch |
| 5'8" – 5'10" | 31.5 inch / 80 cm | 22.0 inch |
| 5'11" – 6'1" | 32.7 inch / 83 cm | 23.2 inch |
| 6'0 + | 33.5 inch / 85 cm | 24.0 inch |
Skateboard Truck Size Chart
Truck size should be chosen according to the deck width. Many of us are not aware of the proper truck size chart. Worry not; I have also created a proper independent skateboard truck size chart.
​The truck size is chosen considering the axle width and hanger width. I will show the chart of them according to deck size. So follow the chart for choosing the best skateboard truck for you.
| | | |
| --- | --- | --- |
| Deck SIze | Axle Width | Hanger Width |
| 8 – 8.5 inch | 203 mm / 8 inch | 139 mm / 5.25 inch |
| 8.5 – 9 inch | 216 mm / 8.5 inch | 149 mm / 5.75 inch |
| 9 – 10 inch | 229 mm / 9 inch | 169 mm / 6.5 inch |
| 10 inch + | 254 mm / 10 inch | 215 mm / 8.5 inch |
Skateboard Wheel Size Chart
Wheel size is really important. I have already discussed this part, but now I will give you a long wheel size chart according to deck width.
We all know polyurethane wheels are the most popular. But you have maintained the proper wheel size for getting the best performance. So, take a look at the wheel size chart skateboard.
| | |
| --- | --- |
| Deck Width | Wheel Size |
| 7 inch | 48-52 mm |
| 7.25 inch | 48-52 mm |
| 7.5 inch | 48-54 mm |
| 7.63 inch | 50-54 mm |
| 7.75 inch | 52-56 mm |
| 7.88 inch | 52-56 mm |
| 8 inch | 52-58 mm |
| 8.25 inch | 54-60 mm |
| 8.5 inch | 54-60 mm |
| 8.75 inch | 56-60 mm |
| 9 inch | 56-60 mm |
Why do you Need a Proper Size Skateboard?
I have already discussed different size charts of different parts of the skateboard. But some people don't know why it is so important. Here I will discuss some problems you may face if you choose the wrong size skateboard. So keep reading.
Problem in training
If you are very new at skating, you will never tame it without getting a proper skateboard. The beginnings face the problems more than the intermediate players. You will lose balance so easily, and turning will be tough for you. So, the beginnings must get a proper size skateboard.
Uncomfortable
Getting comfortable with the skateboard is one of the first conditions for skating. If the board size or the deck size is inappropriate, then you will always lack comfort.
Speed Decreases
The wrong size board decreases your speed. The wrong size board can't match a proper body and board combination. As a result, your board may be heavy on one side. For such problems, you will never be able to gain the maximum speed.
Misplaced foot
If the deck size and shoe size are not compatible, you must miss your steps on the board continuously. It is such an annoying incident. So maintain bother the shoe size and board size is important.
Problem in Learning Tricks
Another thing is learning tricks requires the perfect size skateboard. There you have to ensure the proper body and board alignment. A little unbalanced board can create different problems. Just a little short or longboard can affect your positioning. So, to learn tricks properly, you have to choose the right size skateboard.
Conclusion
If you can figure out the proper size of your board, then there is a good chance to get the appropriate board for you. Check out the tables of skateboard size charts and note the proper size components for your skateboard. Hopefully, you will have no more questions on this topic now. Happy Skating…
I started this blog to provide complete advance guiding you towards a better and more comfortable variant skateboard experience. I deliver more than tools and skateboard guides and motivate people to use different skateboard. Find him on Facebook & Twitter here. Happy Reading!